Theme
The overall design of your publication can be set in the Theme area. Set the Logos, Color swatches, Fonts and Typography of various text elements.
Logos
- Navigation bar: this logo will be shown in the navigation bar of your publication. For logos with a transparent background we recommend using a PNG file. For all other images, use a JPG file.
- Browser tab: this logo (also called the favicon) will be shown on your browser's tab. It will always show up as a square, so you can either upload a square or the editor will
crop it to a square for you. Again, for logos with a transparent background, use a PNG file. Othwerwise, stick to JPG.
- Loading screen (coming soon): this logo will be shown on your publication's loading screen while opening. Same thing, use a PNG if you plan to use a logo with a transparant background.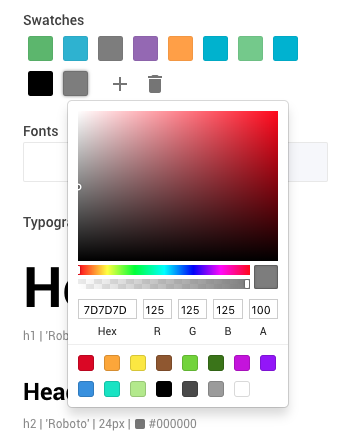 Swatches
Add color Swatches and set the default transparency for each one. Store them here in your theme dashboard so that you always have them at your fingertips no matter which page you're on!
You can use the color picker to choose RGB colors, HSL colors or HEX web colors. The A stands for Alpha, which allows you to set a color's transparency. You can set a specific percentage or adjust it by moving the scroll bar. 
Fonts
We have a lot of Google fonts for you to choose from. Some of them are already in the text editor. Click on the + button to add more fonts to your list. You can also upload your own fonts.
Typography
In the Typography section, you can specify standard fonts and font sizes for the various text elements like headers, paragraphs, quotes, and buttons.
Tip: We recommend using at least 16px font size for plain text to ensure it's easy to read!